How do I install the Virtual LCD (VLCD) and use it with the Puma and/or Lynx series?
You can download the latest version of VLCD through the
GCC Club
(you have to register first.) or install it from the GCC Vinyl Cutters User's CD.
There are two types of Virtual LCD.
1. VLCD only (located on our website).
1.1 Install the VLCD only from the website
| | |
| --- | --- |
| Step 1 | Register to become a member of the GCC Club. |
| Step 2. | Sign into the GCC Club and download the VLCD driver from the Download Area. |
| Step 3. | Start the download. When the InstallShield Wizard appears, click Next. The Wizard will guide you through each step of the installation process...Download Manual |
2. VLCD integrated with driver (located in the User's CD)
2.1 Precaution
This utility acts as a virtual display to assist you in checking the configuration of your cutting plotter.
To run this utility, simply run it using Windows. Before you run the detection,
make sure
:
1. The cutting plotter is in ON LINE status.
2. There is media in the machine
...Download Manual
How do I install a Jaguar or Puma series driver?
The following procedure can be applied to all Jaguar and Puma series drivers. Please insert the GCC CD-ROM disk into the CD-ROM drive of your computer.
| | |
| --- | --- |
| Step 1. | Click the "Start" menu on the Windows Task Bar and click on the "Printers and Faxes" selection to start the process. |
| Step 2. | Select "Add a printer" to go to the next step. |
| Step 3. | Once you see the "Add Printer Wizard" click "Next" to proceed. You will be guided through each step of the installation process. |
| Step 4. | Select the "Local printer attached to this computer" option. Then, click "Next" to go to the next step and complete the process....Download Manual |
How to I update drivers for the SignPal Cutting Plotter?
Have you ever upgraded your Windows operating system and then found that your cutting plotter does not work under the new OS? You probably need to update your system with the latest drivers. Please contact your local distributor or find the new driver at the GCC Club.
Simply sign up for the GCC Club, fill in your contact details, and you will receive a confirmation email immediately. After replying to the confirmation email, you will be able to download drivers which are compatible with Windows 9x/2000/XP for Jaguar, Puma, Ultra and Lynx series and handy VLCD software for Puma and Lynx users
I am new to the sign making industry. What model of a cutter do you recommend?
GCC supplies two series of vinyl cutters. They are the Jaguar and Puma series.

The Jaguar series comes in four models (61 cm, 76cm, 101cm and 132cm in maximum cutting width). The Jaguar series is a versatile, professional line. The cutting speed of Jaguar is up to 1530cm/sec. It can track media up to 10 meters in length. In addition, its 600-gram cutting force can cut not only on vinyl but also on several other materials. Besides, the Jaguar series can pounce paper (pouncing tool is an optional item), making contour cutting, over cutting media, emulating tangential cutting and many other features a snap! The versatile Jaguar series can help sign makers make signs efficiently and precisely.
The Puma II series has three models (30 cm, 60 cm). The Puma series has a cost effective and compact design. This vinyl cutter has a reasonable cutting speed and tracking ability, which is suitable for most of vinyl cutting applications. It user friendliness and easy operation helps new sign makers build up a business easily. It is a very good cutter for department stores or shopping malls that need to make signs for frequent promotional activities. It is also suitable for a beginner.
What are three things to look out for when choosing a vinyl cutter?
There are three things sign makers should consider when buying a vinyl cutter.
1. Tracking ability: Better tracking ability means sign makers can make a higher quality and bigger sign during one cutting job when compared with other cutters. Time is money. Better tracking helps sign makers make signs more efficiently.
2. Cutting speed:High-speed cutters make signs faster than slower cutters. Again, time is money. Faster cutter help sign makers make more money.
3. Cutting force:Cutting force: Cutters with higher cutting force can cut on various media. For example, cutting sandblast or reflective material needs a higher cutting force. If the cutting force of the cutter is not high enough, it will limit the sign maker's business to only vinyl cutting.
What kind of software do I need to work with vinyl cutters?
All SignPal cutters come with free drivers, which work with Corel Draw. Sign makers can edit their signs with Corel Draw, and then send the data through the driver to the vinyl cutter, finishing the cutting job easily, even though Corel Draw is not professional sign-making software. There is some software designed specially for vinyl cutting, for example, GCC's SignPal software. It is best to use cutting software with GCC cutters. SignPal software has four different versions (Apprentice, Expert, Master and Pro) to fit the needs of all sign makers. In addition, sign makers can also buy Flexisign, SignLab, EasySign, Signwizard, etc. software. They all support GCC cutters.
Can I cut paper with GCC cutting plotters?
Yes, you can do it with a Jaguar series cutting plotter.
Can I pounce media with GCC
Yes, you can pounce paper with the Jaguar series. However, you need a pouncing tool (it is an optional item) to replace the cutting tool. The Puma series does not have pouncing ability.
Is there an easy way to create artwork in the center of irregularly-shaped object?
SmartCENTER is an enhanced function of "Center Mode", designed for easy setup to find the center point on the working object, even on polygonal and circular objects.
The user-friendly feature allows you to operate effortlessly and time-saving. Learn how to setup:
Video link
Which focus lens should I use for CO2 laser engravers?
GCC offers four different focal lenses for CO2 laser engravers namely the 1.5", 2.0", 2.5", and 4.0" for different applications. The number description, 1.5", 2.0", 2.5", and 4.0" signifies the distance of where passed through beam will converge. For example, when a beam of light passes through a 2.0" focus lens, the light beam will converge at a 2.0" distance resulting in a concentration of energy at that spot.
The resulting spot size from the different focus lens are also different and the following chart shows the different spot sizes achieved from the different lenses.
1.5" Lens
The 1.5" lens is best when used for engraving of very fine details
2.0" & 2.5" Lens
The 2.0" & 2.5" lenses are good for normal engraving and cutting of up to 10mm thick acrylic
4.0" Lens
The 4.0" lens is good for cutting of 10mm and above acrylic.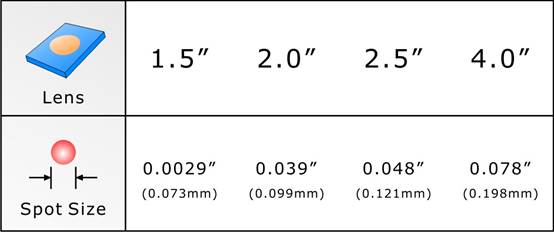 Engraving effects achieved with the different lenses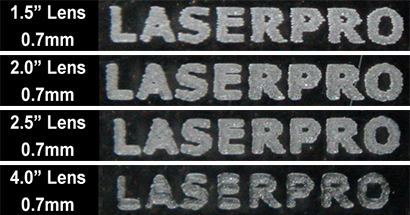 Cutting edges achieved with the different lenses