Supremacy
Sure Cuts A Lot
Sure Cuts A Lot software allowing you to cut virtually any shape of design, including Rhinestone layout, TrueType fonts, custom shapes, and designs imported from Corel Draw or Illustrators. It gives you endless possibilities!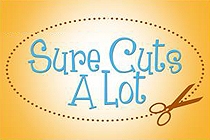 Detail
Features
Multi-languages interface-English, French, German, Portuguese, Spanish, Dutch, Italian and Simplified Chinese.
iOS tablet app Sure Cuts A Lot 3 available (i-Craft™ output only).
Available for Windows & Macintosh OSX.
Create rhinestones templates.
Auto tracing features to automatically convert images for cutting.
Import various file formats, including SVG & PDF.
Works with your installed TrueType & OpenType fonts, as well as thousands of free fonts available on the Internet.
Drawing tools to draw and edit shapes.
Weld letters & shapes together.
Select styles, including Shadow & Blackout to change the look of your letters and shapes with just a few clicks.
WYSIWYG Interface - What you see is what you cut.
Free bundle with i-Craft™ (for vinyl cutters is an optional item).
System Requirements
Pentium processor-based PC or compatible computer (Windows)
Windows 7 and above (32 or 64 Bit)
Intel based Macintosh (Mac)
Macintosh OS X 10.6 and above (Mac)
512 MB of RAM or more
At least 50 MB of available hard disk space