Galvo & XY Table
H230 is a laser marker with integrated system of galvo scan head and XY linear rails designed for versatile industrial use and achieves highest productivity. Equipped with easy-to-use G-Mark Software, H230 delivers the most cutting-edge marking system and provides an all-in-one solution for your business needs.
RoHS Compliance
All GCC products are RoHS-compliant (the European Parliament Directive 2002/ 95/ EC, Restriction of Hazardous Substances) and lead-free (pb free). GCC will continue to concern and provide environmentally friendly products to protect the earth for our further generation.
Large area marking
Integrated galvanometer scan-head on an XY gantry moving system allows marking on max. 600 x 400 mm object tray in one pass, and eliminates system integration.
SmartPIN™ AutoFocus (Patented)
The plug and play probe design makes focusing a one-touch process and provides the accuracy and precision required for optimum quality in the lasering process.
SmartLID™ (Patented)
An innovative lid that opens from both ends allowing easier access and daily maintenance.
Emergency Stop
Big red button located on the top of the machine allows operators to stop the laser and the lens carriage immediately to provide maximum safety.
Drag-N-Play 
An exceptionally innovative and user-friendly feature based on servomotor technology simplifies operations and shortens setup time. Simply hand drag the lens carriage to the desired position to be engraved and press the start button to commence job.
G-Mark Library (Optional)
The programmable software can be used to customize functions by using VB scripts. All commands are received real time from a master PC and position offsets, rotating angles, and sequential marking can be set up. With G-Mark Library, the workflow of marking process can be optimized and simplified at the production line.
Split By Layer
Place your objects to be marked on the same layer based on the scan lens area and the Split By Layer function can perform group laser marking in order of layer to reaches max. 600 x 400 mm work area. This enables to use the scan area effectively, avoid unnecessary movements of the scan head carriage and greatly boost up the productivity.
Auto String
G-Mark Software with auto-generated S/N function, graphic tiling,1D, 2D, text, and logo marking
Reliable and Made in USA CO2 Lasers
The CO2 laser tube is the most critical component of a laser engraver. GCC LaserPro offers the best and most reliable CO2 laser available in the industry. Synrad CO2 lasers are built in the United States with the most advanced laser technology. The laser product is proven to be the most reliable brand with tens of thousands of installations all over the world. GCC LaserPro choose Synrad laser to be a partner. Leader always works with leader; both GCC and Synrad are dedicated to provide customer the best quality product. GCC and Synrad are your best choice.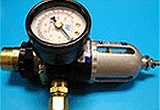 Air Compressor Filter
Applying the filter with the air compressor will help filter out the unexpected steam, oil or dirt when the air compressor is under operation. It prevents the oil or steam from ruining the working piece and keeps the laser craft output at its best quality.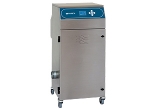 Purex Fume Extraction System
GCC teams up with a UK company to offer the Purex fume extraction unit for its full-line LaserPro laser engraving and cutting systems. These Fume Extraction Systems are specifically designed to prevent personnel from inhaling hazardous fumes and dust generated during the process. Applicable to all GCC LaserPro engravers, the Purex Fume Extraction System represents the latest invention in the exhaust extraction and smoke reduction technology for all types of applications. Noise-free operation, high vacuum capacity, compact design and long life expectancy are just a few of its outstanding features. Powered by a maintenance-free, continuous-running turbine, the Fume Extraction System, which is CE-compliant, ensures personnel safety and legal compliance.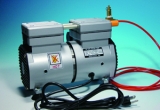 Air Compressor
A specially designed Air Compressor for laser engravers, by using an oil-less diaphragm, you help eliminate the harmful and damaging side effects of moisture on the laser optics. Also, provides the optimal air pressure your laser needs to blow away vaporized particles and helps prevents overheating. A must to keep lenses and mirrors clean to promote longer laser life.
H230
C-Series
I-Series 
Model Number
C12
C30
C60Ti
F20RMZ
F20SHS
F40HHS
Laser Source
CO2
Fiber
Wattage
12W
30W
60W
20W
40W
Max. Work Area
23.6 x 16 in.(600 x 400 mm)
Scan Area (mm)
60/140
70/110
Dimension
48 x 34.8 x 13.9 in.(1220 x 885 x 1352 mm)
Cooling
Air-cooled
Drive
AC Servo Motor
Speed
2000 mm/s (marking)
Z-Axis Travel
210 mm, Automatic
Computer Interface
Standard printer port and USB 2.0** port
Systems
Microsoft Windows 2000 / XP / Vista(32/64 Bit) / 7(32/64 Bit) / 8(32/64 Bit) (Desktop or Laptop PCs)
Memory Buffer
32 MB standard
Display Panel
LCD panel display
Speed
2000 mm/s (marking)
Safety
Class 2
Class 3R
Operation Voltage
200-240 Volt AC
Facility Requirements
Air Exhaust System
External exhaust system is required, one 4" connection on the back of the machine
C Series
H230-C12
H230-C30
H230-C60 Ti
Scan Area (mm)
60x60
140x140
60x60
140x140
60x60
140x140
Spot Size (mm))
0.2
0.27
0.21
0.28
0.26
0.34
Max. Part Height (mm)
150±2
100±2
150±2
100±2
150±2
100±2
I Series
H230-F20RMZ
H230-F20SHS
H230-F40HHS
Scan Area (mm)
70x70
110x110
70x70
110x110
70x70
110x110
Spot Size (mm))
0.027
0.043
0.022
0.034
0.044
0.07
Max. Part Height (mm)
184±2
124±2
184±2
124±2
184±2
124±2

*Speed does not equal to throughput. See dealer or visit www.gccworld.com for more details.
** File transmission at USB 2.0 Full Speed rate.
Specifications are subject to change without prior notice.