Desktop
The C180II is designed to provide an enjoyable engraving experience. Underneath the stylish exterior is a full 18" x 12" (458 x 305 mm) working area. Engraving depth can be easily extended from the normal 4 inches to 6 inches in less than a minute. The C180II is an all purpose laser engraving system that delivers spectacular engraving and cutting results and makes every job a pleasant working experience.
RoHS Compliance
All GCC products are RoHS-compliant (the European Parliament Directive 2002/ 95/ EC, Restriction of Hazardous Substances) and lead-free (pb free). GCC will continue to concern and provide environmentally friendly products to protect the earth for our further generation.
Closed-loop DC Servo Motor and Reliable Motion System
The C180II utilizes high performance Closed-loop DC servo motors for precise and fast carriage movement combined with a reliable motion system to produce exceptionally accurate outputs.
TrueImage (Patented)
Patented TrueImage feature presents image engravings in its most vivid form by employing a uniquely designed laser firing algorithm.
Open Front Door Design
The top cover coupled with the front door open design allows easy loading of working pieces.
Drag-N-Play
An exceptionally innovative and user-friendly feature based on servomotor technology simplifies operations and shortens setup time. Simply hand drag the lens carriage to the desired position to be engraved and press the start button to commence job.
Simple and Intuitive Control Panel
TA user-friendly menu-driven interface system simplifies operation. Hot keys design and job status display facilitates your work and makes it clear and easy to carry out.
SmartPIN™ AutoFocus (Patented)
The plug and play probe design makes focusing a one-touch process and provides the accuracy and precision required for optimum quality even on transparent materials.
Dust Protection Design (Patented)
Dust protection covers around working table to provide marvelous exhaust vacuum together with Smart Vacuum design, and prevention dust accumulated on laser system.
Programmable Origin Modes
Easy to use position modes allow the operator an effortless way to setup a job. Repetitive workflows can be drastically simplified by relocating the origin position to any desired location.
Internal LED Lighting
Internal LED lighting illuminates the working space giving a clear view of the work in progress. Big red button located on the top of the machine allows operators to stop the laser and the motion carriage immediately to provide highly safety operation.
Emergency Stop
Big red button located on the top of the machine allows operators to stop the laser and the motion carriage immediately to provide highly safety operation.
Built-in SmartBOX™
The built-in SmartBOX™ feature produces a downward pulling force to keep light items in place creating a stable working environment.
SmartCENTER™ (Patented)
The super user-friendly SmartCENTER™ function helps end users to easily and automatically locate the center point of objects of any shape vastly eliminating tedious setup time.
Smart Vacuum
Smart vacuum adjustment is a fantastic design which allows users to choose top or bottom ventilation according to their demands.
Job Preview Function
The GCC LaserPro laser engraver all series printer driver features a job preview function that previews graphics before the official laser printing process. One of the highlights of this feature is that it provides an estimated working time*.
The estimated working time is an easy tool for operators to know in advance as how much time will be needed to finish the job for better job management; it is also convenient for a shop to provide a quotation for its laser services.
SmartPRINT™ (Optional)
The GCC LaserPro SmartPRINT™ software features powerful functions, an intuitive interface and embedded GCC LaserPro laser parameter setting for both MAC and Windows users....MORE
SmartPRINT™ Flyer Download
Bridge Cutting

Bridge Cutting function diversifies the laser cutting into packaging prototyping and fulfill versatile requirements. Define the cutting gap to create the dashed line effect from user friendly print driver interface.

Bridge Cutting online Video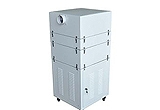 Entry-Level Fume Extraction System
In addition to Purex, GCC also offers a series of entry-level fume extraction units for customers who run for general purposes and relative light duty operation. GCC LaserPro PA-1500FS & PA-1000FS, CE-certified fume extraction systems, are designed to remove the hazardous fumes and dusts during laser processing to protect the health of operators, eliminate environmental pollution and enhance the laser cutting and engraving quality at the same time.
The GCC PA-1000FS fume extraction unit is suggested to work with Mercury, X252, or desktop engravers, while PA-15000FS works great on Spirit series, X380, and MG380Hybrid laser systems.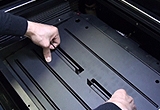 smartTRAY™
There is no troublesome installation process but extraordinarily optimized ventilation structure and aerodynamic designs. SmatTRAY™ even provides air ventilation all over the working area, directing the dust to the downward ventilation for immediate removal.
SmartTRAY™ is the best pal when working with MDF, rubber, wood, paper, and other materials .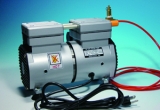 Air Compressor
A specially designed Air Compressor for laser engravers, by using an oil-less diaphragm, you help eliminate the harmful and damaging side effects of moisture on the laser optics. Also, provides the optimal air pressure your laser needs to blow away vaporized particles and helps prevents overheating. A must to keep lenses and mirrors clean to promote longer laser life.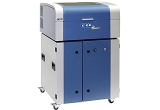 Purex Fume Extraction System-C180II
GCC teams up with a UK company to offer the Purex fume extraction unit for its full-line LaserPro laser engraving and cutting systems. These Fume Extraction Systems are specifically designed to prevent personnel from inhaling hazardous fumes and dust generated during the process. Applicable to all GCC LaserPro engravers, the Purex Fume Extraction System represents the latest invention in the exhaust extraction and smoke reduction technology for all types of applications. Noise-free operation, high vacuum capacity, compact design and long life expectancy are just a few of its outstanding features. Powered by a maintenance-free, continuous-running turbine, the Fume Extraction System, which is CE-compliant, ensures personnel safety and legal compliance.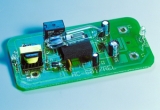 SmartGUARD™ Fire Alarm (Patented)
Laser cutting and engraving operation using the SmartGUARD Fire Alarm assures optimum safety. When there is a malfunction, the alarm system will be active and shut-down the operation system immediately.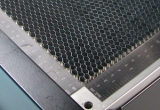 Honeycomb Table
The honeycomb table is an ideal tool for laser cutting, especially when cutting materials into small pieces. It lifts the work piece off the work table from hitting by laser reflection while supports it with honeycomb cell design. The dust and vapor created during laser cutting are then taken away effectively through the honeycomb cell by down vacuum funnel exhaust. Rather than handling rigid materials, honeycomb table also helps to fix flexible materials with the aid of down vacuum to keep constant focus distance and consistent cutting result. A clean and better cutting quality is achieved from this technique.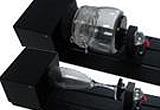 Rotary Attachment-C180II
The rotary attachment provides the GCC LaserPro C180II with the ability to engrave on cylindrical or spherical objects. In addition to the standard X, Y, Z axis, the rotary attachment allows for a fourth axis which rotate the object 360° to allow for engraving on cups, wine glasses, and even spherical objects. The maximum diameter and length of the to-be-engraved object is 127mm and 250mm respectively. Its maximum weight should not exceed 3kg.

*C180II without built-in SmartBox™, the rotary attachment is positioned on the working table, and the max. diameter of the object is 0.5"-1.9".
C180II
Work Area
18 in. x12 in. (458 mm x 305 mm)
Max. Part Size (W x L x H)
19.8 in. x 12.2 in. x 6 in. (503 mm x 310 mm x 155 mm)
Table Size
20.4 in. x14.7 in. (520 mm x 375 mm)
Dimensions (W x L x H)
29.1 in. x 30.7 in. x 16.1 in. (740 mm x 780 mm x 410 mm)
Laser Source
12 to 40 Watt Sealed CO2 Laser
Cooling
Air-cooled, Operating environment temperature 15°-30°C (60°-86°F)
Drive
Closed-loop DC Servo Control
Maximum Motor Speed
40 IPS
Throughput*
176.3 in2 / hr (1137 cm2 / hr)
Speed Control
Adjustable from 0.1~100% (Up to 16 color-linked speed settings per job)
Power Control
Adjustable from 0~100% (Up to 16 color-linked power settings per job)
Engraving capability
256-level gray scale image processing capability
Distance Accuracy
0.254 mm or 0.1% of move. whichever is greater
Z-Axis Movement
Automatic
Focus Lens
Standard 2.0", optional 1.5" available
Resolution (DPI)
Available 125, 250, 300, 380, 500, 600, 760, 1000
Computer Interface
10 Base-T Ethernet, Full speed 2.0 USB
Compatible Operating Systems
MS Windows
Display Panel
4-line LCD panel showing current file name, total working time,
laser power, engraving speed, file(s) loaded into memory buffer,
setup and diagnostic menus.
Safety
Class I Laser Product Compliant with EN60825
​Class II Laser Product Compliant with CDRH
2006/42/EC Machinery Directive Compliance
Facility Requirements
Operation Voltage
100-240VAC, 50-60Hz Auto Switching, Max. 12A
Fume Extraction System
External exhaust system with minimum flow rate 215m3/h (CFM 125 ft3/h) is required,
10kPA negative pressure (Purex GCC 400 @ 2"& 4" exhaust port)
*Speed is not equal throughput. See dealer or visit http://www.gccworld.com for more details.
Specifications are subject to change without prior notice.
*The flow rate is determined by a default fume extraction system; the flow rate may vary due to a di fferent fume extraction system.​