Flat-bed
JF-240UV
The innovative GCC JF-240UV Flatbed Printer comes with high throughput, standard dual-UV LED lamps, 1 liter bulk ink, four colors CMYK and optional Varnish and White color that offer outstanding printing quality for short runs and on-demand printing. With applicable to a maximum of 30cm tall object and 50x60 cm print area, GCC JF-240UV Flatbed Printer eliminates the limitation of printing.
Built-in ADA Printing Function
With the specially-developed ADA printing technology, JF-240UV can produce ADA signs with one simple printing process. JF-240UV provides the best solution for ADA-compliant sign printing in a wide range of applications.
Texture Printing Effect
JF-240UV prints raised patterns on whatever materials used to create virtual tactile sensation to make your images stand out in the crowd. Moreover, the high resolution printing ability delivers refined output—even 2pt small letters can be printed with high sharpness and definition in sophisticated details to serve a diversity of applications.
Unparalleled Productivity
Specially designed for UV printing, the dedicated printheads offer outstanding throughput and guarantee printing quality. JF-240UV achieves 5.78m²/h printing speed--the best performance in the same category you can find in the market.
Advanced Varnish Printing Technology (Optional)
Varnish is a transparent spread on the surfaces of printed matters (images) that forms a thin and even transparent gloss layer after its leveling and UV curing for drying process. Varnish not only protects printed content but enhances durability. Different varnish modes are available that offer the advantages of a high value added application and cost saving on labor and laminator equipment as well as creates the tactile attribute of graphics, which lifts the added value of products and presents eye-catching printing effect.
The features of the varnish modes are:
Gloss: The graphic is made to be glossy Semi gloss: The graphic is made to be semi glossy Matte: The graphic is made to have a matte surface Water mark: The graphic is made to be glossy with watermarks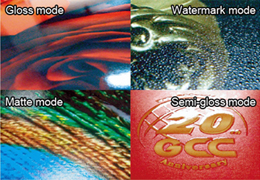 By adjusting the spray printing control of color inks and varnish inks, color varnish can be applied to printed matters to satisfy a wide range of applications. This advanced technology is an excellent tool for color customization which fully exhibits the highlighted effects and practical value of the combination of varnish and patterns on printed matters.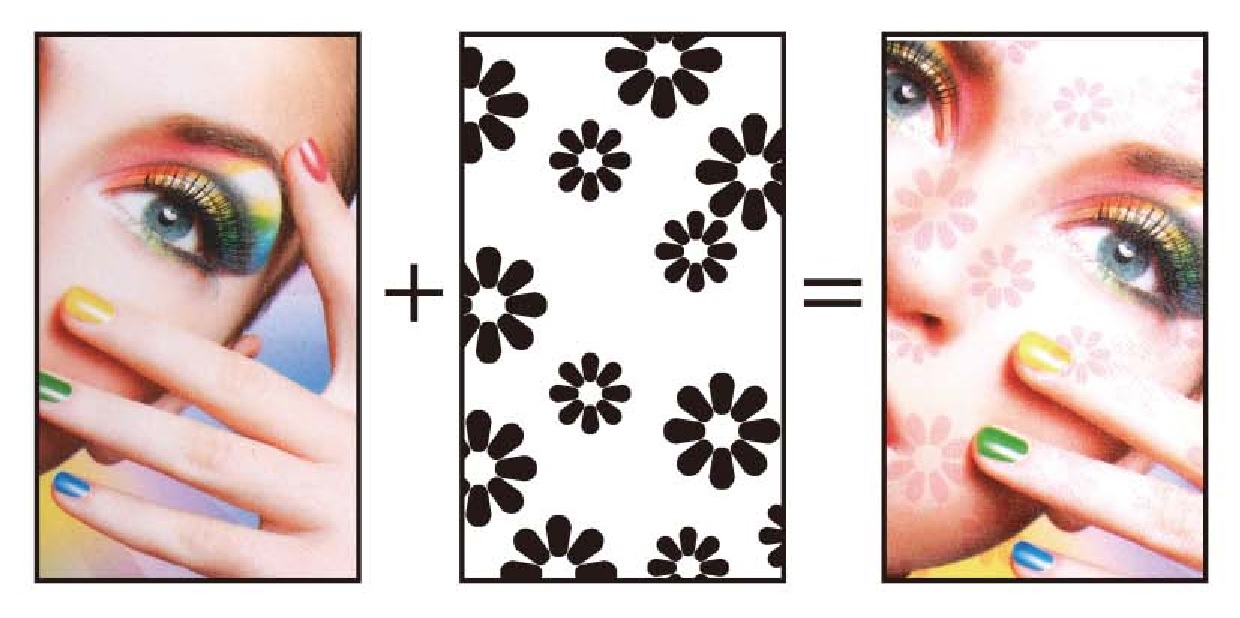 32 ready-to-use patterns are available or you may create your tailor-made pattern make your printed matters appealing and unique.

Dedicated White Solution (Optional)
JF-240UV offers four major utilizing white ink applications as a base, overcoat, spot color and color-white-color for 3 layer printing at the same time. With the White solution, it can be easily used to produce brilliant and rich color output on any transparent and dark media, offering excellent quality images to fulfill all needs for Sign, Labeling and Packaging industries.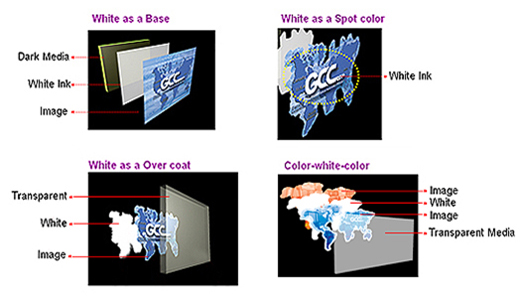 Automated White Ink Circulation
Knowing that white ink settles down easily, GCC specially developed automated white ink circulation regularly performs from ink bottle to print heads to prevent the pigment in white ink from settling. The automated white ink circulation greatly diminish the white ink loss and generate the outstanding printing quality.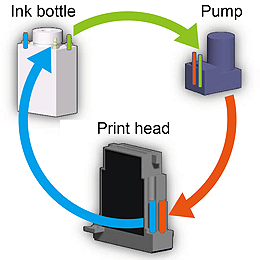 Superior Working Area
With the maximum of 609.6x508mm (24"x20") printing area and 300mm (11.8") media thickness allowance, JF-240UV is able to satisfy different printing needs and outplay the opposition in the market.

Standard Dual UV LED Lamps
The GCC JF-240UV flatbed printer is equipped with dual UV LED lamps to reach high throughput, energy saving and environmental protection goals. Customers can print on heat-sensitive materials such as BOPP and PET films.
SmartMESH™ Banding Free Function
Specially designed SmartMESH™ function applies complex algorithm to ink jetting patterns control to create unparalleled graphic designs. The advanced SmartMESH™ technology effectively solves banding issues and greatly improves image quality.

Auto Media Calibration (AMC™)
Auto Media Calibration (AMC™) gauges the distance between the print heads so the loaded media can be automatically detected and adjusted to the optimized position based on the thickness of the loaded media.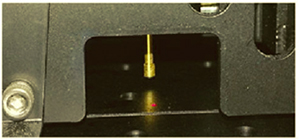 Printhead Gap Auto-Adjustment
Printhead Gap Auto- Adjustment lowers the platform automatically when detecting obstacles that block the movement of printhead before printing to avoid printhead damages.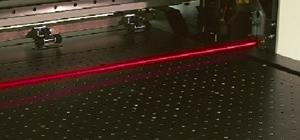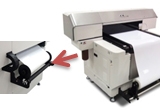 Roll to Roll system
Roll to Roll system running on GCC JF-240UV allows you to lower downtime, operator involvement and meet projects on-demand.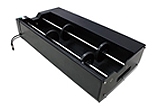 Rotary attachment - JF-240UV
With GCC innovated rotary attachment system, JF-240UV can perfectly perform on cylindrical items, such as bottles and mugs.
JF-240UV
Printing method
On-demand Piezo head
Print head (Drop size)
UV printing dedicated printhead, 4pl
Printing area (W x L)
24 x 20 in. (609.6 x 508 mm)
Max. media size
(W x L x H)
Size
25.6 x 21.7 x 11.8 in. (650 x 550 x 300 mm)
Weight
Less than 15 kg
Media height adjustment
AMC™
Speed
Production
5.78 m²/hr
Quality
3.90 m²/hr
Hi-density
1.91 m²/hr
Ink
Type
UV curable ink
Capacity
1 liter
Colors
C/M/Y/K + W/V (optional)
Ink curing unit
Dual UV LED lamps
Printing resolutions
1440 x 720dpi、1440 x 1440dpi
Distance Accuracy – When printing
Error of less than +-0.3% of distance traveled, or+-0.3mm (0.01 inch),
whichever is greater
Z axis movement
Motorized
Control Panel
Touch Screen
Interface
Ethernet 1000BASE-T
Operating Environment (Temperature/Humidity)
22°C -30°C (71.6°F- 86°F) / (40%-60% humidity), higher is recommended
Operating Voltage
110 - 240VAC, 50/60HZ
Power consumption-Operating
115V AC (60HZ) (Max. 270W), 220V AC (50HZ) (Max. 260W)
Power consumption-Stand by
115V AC (60HZ) (Max. 160W ), 220V AC (50HZ) (Max. 200W )
Dimension (WxLxH)
Printer
1760 x 1160 x 1140 mm
69.3 x 45.7 x 44.9 in.
Shipping
2000 x 1300 x 1360 mm
78.7 x 51.2 x 53.5 in.
Net Weight
Printer
262 Kg
Shipping
366 Kg
Optional
Rotary attachment
Roll to Roll system
Fume Extraction Unit

*Above specifications are subject to change without prior notice.