Laser Label System
LabelExpress
The GCC LabelExpress laser die cutter is a high speed label cutting system that delivers high flexibility and great precision with an intuitive operation. With the state of the art CCD module, auto-feed system, waste removal module and re-winder device, as well as an optional slitting module. LabelExpress provides an uninterrupted and unattended workflow on one single compact platform.
RoHS Compliance
All GCC products are RoHS-compliant (the European Parliament Directive 2002/ 95/ EC, Restriction of Hazardous Substances) and lead-free (pb free). GCC will continue to provide environmentally friendly products to protect our earth for future generations.
SmartVISION™ Pro CCD
SmartVISION™ Pro CCD is a unique artificial intelligent system that reads two marks with scaling and angle compensation to perform precise contour cutting for printouts.
* Use 3mm square as registration marks for high precision cutting.
Auto-feeding Ultrasonic Sensors
Ultrasonic sensors detect the distance in relation with media. When the distance is too long, the media will be automatically fed and cut materials will rewind into the roll for take up.
Waste Removal System
With the waste removal system, the cut label will be separated from waste automatically, and the label is ready for use once the cutting job is finished.
Edge Guiding Mechanism
Edge guiding module keeps materials constantly feeding and prevents materials from shifting.
Steel Drum Driven Technology
Reliable steel drum technology drives materials with long plotting and provides excellent tracking ability.
Closed-loop DC Servo Technology
A Closed-loop DC servo motor can deliver greater continuous shaft power at higher speeds than a stepper of the same frame size. In addition, It can also give far greater accuracy due to the continuous movement, instead of constant stopping and restarting. GCC high speed closed-loop DC servo motor technology guarantees precise and fast carriage movement with exceptional accurate outputs.
Dedicated SmartCONTROL Label Driver
Dedicated SmartCONTROL Label allows the operators an effortless way to setup a job. Workflows can be drastically simplified with the intuitive and easy-to-use SmartCONTROL Label.
Emergency Stop
Prominent emergency button located on the top of the machine allows operators to stop the laser immediately to provide a safe operating and working environment.
Illumination Light
Built-in LED light module illuminates the working space and makes every engraving detail easy to see.
Intuitive Control Panel Interface
A control panel with coherent hot-key design and graphical icon display allows you to change laser parameter settings, set jobs to a repetitive mode, queue jobs, delete jobs, etcetera.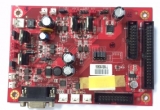 External Control Interface (LabelExpress)
The External Control Interface Board is an optional item that allows users to set up GCC machine for communication with external devices such as label printer and others to form an automatic production line.
Slitting Module
Slitting module is able to cut the roll media into smaller webs.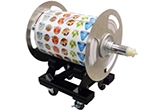 Paper Loading Cart
Paper loading cart is a handy tool that allows operators to put the media on the cart for the assembly of the media and the wind/rewind system.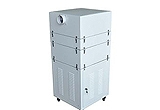 Entry-Level Fume Extraction System
In addition to Purex, GCC also offers a series of entry-level fume extraction units for customers who run for general purposes and relative light duty operation. GCC LaserPro PA-1500FS & PA-1000FS, CE-certified fume extraction systems, are designed to remove the hazardous fumes and dusts during laser processing to protect the health of operators, eliminate environmental pollution and enhance the laser cutting and engraving quality at the same time.
The GCC PA-1000FS fume extraction unit is suggested to work with Mercury, X252, or desktop engravers, while PA-15000FS works great on Spirit series, X380, and MG380Hybrid laser systems.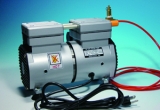 Air Compressor
A specially designed Air Compressor for laser engravers, by using an oil-less diaphragm, you help eliminate the harmful and damaging side effects of moisture on the laser optics. Also, provides the optimal air pressure your laser needs to blow away vaporized particles and helps prevents overheating. A must to keep lenses and mirrors clean to promote longer laser life.
LabelExpress
LE15
LE24
Model Number
LE15-20V93
LE15-30V
LE24-20V
LE24-30V
Cutting Width
380 mm (15")
610 mm (24")
Work Area (Sheet) (W x L)
380 x 500 mm (15" x 19.7")
610 x 500 mm (24" x 19.7")
Max. Part Size (W x L x H)
Width
400 mm (15.7")
610 mm (24")
Roll size
76.2 mm (3") core with 300 mm (11.8") diameter
Laser Source
Sealed CO2 Laser
Wattage
20W 9.3-μm
30W 10.6-μm
20W 9.3-μm
30W 10.6-μm
Drive
Closed-loop DC Servo Control
Roll to Roll
Stepper motor Control
Maximum Speed
1,530 mm/s (60ips) (for straight line cutting)
Speed Control
Adjustable from 0.1~100% (Up to 16 color-linked speed settings per job)
Power Control
Adjustable from 0~100% ( Up to 16 color-linked power settings per job )
Alignment System
CCD Module
Distance Accuracy
0.254 mm or 0.1% of move, whichever is greater
Computer interface
Standard USB port
Operating systems
MS Windows
Display Panel
4-line LCD panel
Paper Feeding
Auto feed sensor, re-winding system, paper alignment control,
waste removal system
Vacuum System
Down vacuum for media fixation
Top vacuum for media surface cleaning
Process materials
Paper, PET, PP, TNT, BOPP, etc.
Dimensions (W x L x H)
Machine

1,070 x 1,441 x 1,180 mm

(42.2 x 56.7 x 46.5 in.)

1,135 x 1,441 x 1,180 mm

(44.6 x 56.7 x 46.5 in.)

Shipping
1,320 x 1,660 x 1,490 mm
(52 x 65.4 x 58.7 in.)
1,385 x 1,741 x 1,430 mm
(54.5 x 68.5 x 56.3 in.)
Weight
Machine
250 kg
275 kg
Shipping
362 kg
375 kg
Facility Requirements
Electrical
100~240 Volt AC, 50/ 60Hz, Auto Switching, Max. 10 Amp
Power Consumption
MAX:1000W
*Speed does not equal to throughput. Contact local dealer for more details.
** Specifications are subject to change without prior notice.
​