Laser Engraver
Carpet cutting Application

The carpet is one of the most frequently used elements in interior decoration such as residences, shopping malls and office, offering artistry and warmth. Various carpet styles create different atmospheres in different occasions.

▲Different carpets create different atmospheres in these bedrooms.
This month's LaserPro Application Lab will use large format Gaia, to demonstrate how to make a customized and unique carpet by utilizing inlaying skills.In your living room; for example, in your living room, you can cover with a carpet which has your child's name spelled on it; or in the conference room of your office, you can also cover a carpet with the company's name to enhance the added value. The LaserPro Application Lab has prepared the "jigsaw-style" carpet for inlay. With Gaia's precise cutting the cutting, you will have a perfect inlay performance.
Sample Production:
Introduction: Most inlay carpets on market are made of plastic material so when we use laser to cut a carpet, it will be heated. After heating for some time, the carpet size will slightly shrink (for example, after laser cutting, a 10mm square will slightly shrink to 9mm). To ensure the perfect performance of inlaying, we can enlarge the size of inlaid object to be cut, avoiding shrinking to influence the inlaying effect.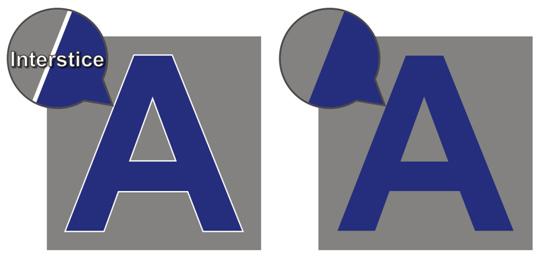 ▲Use Contour function to enlarge the character to avoid undesired interstice after inlaying.
Step 1. Use the Contour function to enlarge the size of object proportionally.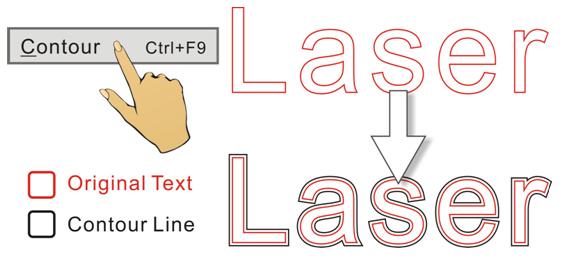 Step 2. Use laser to cut the carpet; make the space for inlaying.

Step 3. Cut out the pieces you want to inlay.

Step 4. Fix the piece into the space in carpet, the inlaying is complete.

Step 5. Sample

Suggested Parameters:
Gaia 200W

Speed

Power

DPI

ppi

Other

8 %

90 %

1000

X

Air Assist
Tips:
For a 100 W machine, the size set for Contour is about 1mm. The Contour size will vary depending on different Wattage.Please adjust parameters accordingly.
Please check and ensure the smoothness and evenness of the material before cutting to avoid out of focus and cause material waste.