Laser Engraver
Paper cutting for prototype
Many paper packaging manufacturers would first create and exhibit packaging prototypes to speed the approval process among prospective clients. Previously in our showcase we had demonstrated methods of using Laser Engravers to cut paper media and construct paper packaging compositions (Please refer to engr_showcase_detail.php?ID=English_041021223814 for your reference). Using laser to render paper packaging prototypes entails the advantages that moulds are no longer required, and any modification can be made at once; furthermore, you can also fabricate folded-line and cut-out effects. Laser Engraver is an ideal model for packaging prototyping.
Nowadays, package prototyping no longer represents a simple carton construction; prospective customers wish to visualize samples that realistically represent the final product, and experience the real package--shape, feel, weight and ergonomics. The paper media chosen for packaging prototype will first be printed, and then cut out by laser. However, these tasks will not be straightforward without the assistance of precise positioning, or with the aid of a position device.
This month the LaserPro application lab will utilize with the AAS feature to assist constructions of packaging prototypes. It will make an AAS positioning mark during printing which simplifies the cutting tasks to follow, resultantly creating prototyping results that will satisfy prospective customers.
Steps:
First place the paper media on printer to print.

Then place the printed graphic on LaserPro laser engraver with AAS feature, such as LaserPro Spirit, Spirit GX or Gaia for cutting, and create required positional marks.

After cutting, assemble the processed paper to construct a refined packaging prototype.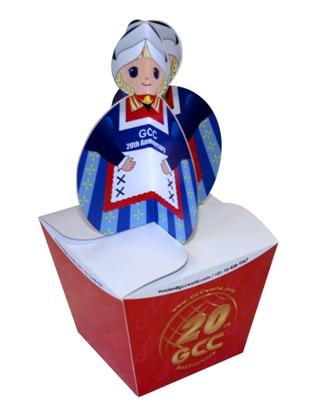 Engraving parameters:
Spirit 60W

 

Speed

Power

DPI

ppi

Cutting Line

20%

90%

500

400

Folding Line

100%

15%

500%

400
Tips:
Before engraving begins, please make sure that all materials used are flat and evenly leveled; this will avert from out-of-focus and minimize resource waste.
Please moderately adjust the power levels of Folding Line; too much power output may spoil the paper media.