Galvo Marker
StellarMark I-Series Laser Marker is a comprehensive solution that satisfies customers with diverse requirements. StellarMark I-Series is easy to install, easy to operate, designed with simple maintenance and safety considerations while providing superior output quality.
Superior Output Performance
Benefiting from the state-of-the-art design, StellarMark I-Series stands out from the competition by increasing productivity and providing superior output quality. The TEM00 beam mode brings in high precision marking results and stable laser output maintain consistent marking quality. Different M2 values are available with the different models under the IF-series catering to the different requirements for different applications.

Consistent Power Stability:
Laserpro
Others
Two-Point Focus Finder
Two-Point Focus Finder is standard feature for StellarMark IFII series. It helps you to quickly find the correct focus distance with ease.
Mark On Fly (Optional)
An optional software function that features marking of moving objects on a conveyor.
G-Mark Library (Optional)
This programmable software can be used to customize functions by VB scripts. All the commands can be received in real time from master PC and allows the position to offset, it also permits angle rotation and text contents can be varied from time to time without extra editing process. 
With G-Mark Library, the workflow of the marking process can be optimized and simplified at production line.
Auto Power Compensation
Close loop design to ensure a consistent output power over a long period of time.
Preview Mode
Variable-speed, red dot pointer "preview" mode allows for accurate and easy marking positioning on the marked part.
Cost-Saving Solution
StellarMark I-Series is equipped with the state of the art technology of end pumped and fiber design, offering less downtime and lower running costs than other conventional laser.
Emergency Stop
The machine can be entirely shut down by pressing the Emergency Stop button from controller when any emergency occurs.
Key-Switch
This safety feature enables operators to keep the laser locked to avoid unauthorized use.
CE Certification
StellarMark complies with essential safety requirements set out in the European Directives.
RoHS Compliance
All GCC products are RoHS-compliant (the European Parliament Directive 2002/ 95/ EC, Restriction of Hazardous Substances) and lead-free (pb free). GCC will continue to concern and provide environmentally friendly products to protect the earth for our further generation.
Error Indications
Error message appears when the laser marker works incorrectly. So operators can be informed by the message and to solve the problem immediately.
Secure Password Protection
Three-tier password security system restricts unauthorized access to the production line.
Superior Text-editing Function
** Automatic Serial Marking 
** Barcode Marking
** Wobble Marking
** Jump Cross Marking
** Font Variation
** Logo and Image Marking
** Arc Marking 
Multiple Waveforms
While the IFII 20RMZ model has a single waveform suitable for basic marking applications, multiple waveforms are available for the IFII 20SHS and IFII 40HHS models further enabling you to make use of 25 optimized pulse waveforms ranging in duration from 10-240ns optimized for sophisticated marking and micro-machining applications.
The availability of the waveforms open up more combinations that enables users to fine-tune their laser settings for optimal results...MORE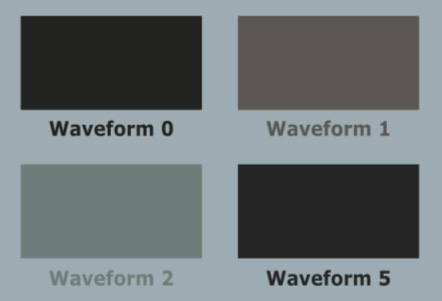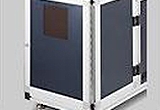 Safety door
Stellar Mark I-Series can be fastened to a rigid mounting structure to ensure the marking system and adjustable Z-axis table are parallel to each other for quality jobs.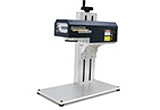 EZ Stand (i-series)
EZ Stand is a simple laser marker holder that allows users to quickly set up a marking environment suitable for use with 12W and 30W StellarMark models. An adjustment dial on the EZ Stand allows users to quickly and easily adjust the position of the laser marker to maintain the most suitable focal distance for the varying focal distance requirements when marking objects of different sizes.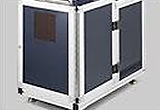 Mounting platform
Stellar Mark C-12II / 30II can be fastened to a rigid mounting structure and to ensure the marking system and adjustable Z-axis table are parallel to each other for quality jobs.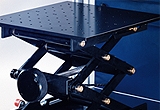 Adjustable z-axis table
Adjust the marking surface as required to ensure that it is parallel to the Stellar Mark focusing lens mount.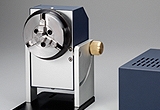 Rotary Attachment - Marker
The rotary attachment unit allows for precise 360° marking on round, cylindrical, or torus-shaped objects. The unit flexibly accommodates objects with external diameters up to 81 mm, internal diameters up to 70 mm, and weight up to 5kg. External marking on torus-shaped objects, such as a ring, is simple and precise with the included ring stick.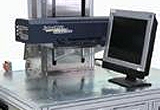 Workstation
*Not available on StellarMark C-100 model
StellarMark I-series
IF 20RMZ
IFII 50RMZ
IF 20SHS
IF 40HHS
Laser Source
Wavelength
1064 nm
Type
Yb-doped, MOPA
Output Power
20W
50W
20W
40W
Beam Mode
TEM00
Beam Quality (M²)
<1.6
≦ 1.3
2.6-3.7
Frequency
1~500 KHz
1~1000 KHz
Waveform
2
25
Cooling

Air-cooled

Max. Linear Marking Speed
3,000 mm/s
Max. Marking Speed
10,000 mm/s
Electrical Requirements
Power Supply
110-220V, 50/60 Hz, Max. 15 Amp
Power Consumption
Max. 1650W
Dimensions
Laser head
L 508 x W 168 x H 185 mm
Control unit
L 470 x W 360 x H 241 mm
Laser Marker Weight
9kg
Control Unit Weight
25kg
Operating system
Microsoft Windows Vista(32/64 Bit) / 7(32/64 Bit) / 8(32/64 Bit) (Desktop or Laptop PCs)
Environment
Temperature
15°C ~ 35°C
Humidity
10 ~ 80% Non condensing
Safety
Class 4 (EN60825-1 Class 1 available with safety shield and LFC)
2006/42/EC Machinery Directive
2014/35/EU Low Voltage Directive
2014/30/EU Electromagnetic Compatibility Directive
IFII 20 / 50RMZ Scan Lens
Model No.
70
110
180
300
Working Area
70 x 70 mm
110 x 110 mm
180 x 180 mm
300 x 300 mm
Spot Size*
27 μm
44 μm
71 μm
114 μm
Working Distance
142 +/- 1 mm
220 +/- 2 mm
350.3 +/- 2 mm
553.3 +/- 3 mm
Repeatability**
0.03 mm
0.03 mm
0.04 mm
0.06 mm
IFII 20SHS Scan Lens
Model No.
70
110
180
Working Area
70 x 70 mm
110 x 110 mm
180 x 180 mm
Spot Size*
22 μm
35 μm
55 μm
Working Distance
142 +/- 1 mm
220 +/- 2 mm
350.3 +/- 2 mm
Repeatability**
0.03 mm
0.03 mm
0.04 mm
IFII 40HHS Scan Lens
Model No.
70
110
180
Working Area
70 x 70 mm
110 x 110 mm
180 x 180 mm
Spot Size*
62 μm
100 μm
159 μm
Working Distance
142 +/- 1 mm
220 +/- 2 mm
350.3 +/- 2 mm
Repeatability**
0.03 mm
0.03 mm
0.06 mm
Above specifications are subject to change without further notices. See dealer or visit http://www.GCCworld.com for more details.
All above spot size will be material dependent.
*According to theoretical calculation.
**The test is 8-hour continuous firing with power level at 30% using a 50RMZ
Specifications are subject to change without prior notice.
Experience PermAlign™ the unique solder bonded optics technology with Stellar Mark I-Series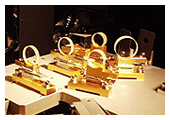 With the PermAlign™ technology, Stellar Mark I-Series is the most rugged yet refined diode-pumped solid-state laser marking system available today.

Two optical lenses are used to reflect the light inside the laser head to accumulate a sufficient amount of energy that will emit laser light. Most of the current adopted technology for fixing these optical lenses is to screw them onto the mirror holder. Because vibration during working process will cause the position of lenses to be displaced, which will either cause the beam to shift or the beam mode or power to change, they must be fastened firmly in place.

Benefiting from the unique solder bonded optics technology pioneered and patented by the world's leading laser supplier Coherent, the Stellar Mark I-Series totally completely eliminates this annoying problem. The laser heads of Stellar Mark I-Series are assembled in an immaculate facility eliminating the possibility of particulate contamination. Each optical lens in the laser is carefully aligned using precision tools and then permanently solder-bonded in position. The optical components inside the laser head are then fixed permanently in place on a firm and solid platform to endure hectic industrial environments. This means, you will never need to clean or align the laser!

The alignment-free technology will without doubt help you avoid unnecessary down time resulted from unwanted beam drifting, beam mode changing and power changing within your production line. Moreover, the high precision and reliability of PermAlign™ technology is acknowledged by semiconductor industry for many years.

Stellar Mark I-Series is your best marking tool that will allow you to do precise jobs in less time with less hassle.
Pyramid Ruler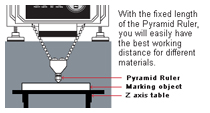 The innovative and patented focus tool – Pyramid Ruler is an accessory unit for providing the best working distance and focuses on both GCC LaserPro Stellar Mark C-Series and I-Series marking systems. No guessing is required anymore. Now you can get the best output quality easily by adjusting the working distance with the Pyramid Ruler!

With the fixed length of the Pyramid Ruler, you will easily have the best working distance for different materials by just placing the work piece on the Z axis table and move it up until the work piece touches the bottom of the Pyramid Ruler.

With the amazing Pyramid Ruler, the working distance and the focus will be adjusted in less time with less hassle than other process available. Try and enjoy the benefit of the Pyramid Ruler!