Supremacy
Developed on the basis of GCC LaserPro's accumulated technology with new powerful motion system. GCC LaserPro T500 is capable of exceptional 3D engraving quality and cutting at high speed which make it a high ROI laser system on the market. Equipped powerful 200W laser tube allow user to deliver clear and fine cutting result. GCC LaserPro T500 is a dedicated design to fulfill your cutting and engraving needs in one machine with high throughput and superb quality. With a series of user-definable features, the T500 is the flexible and user-friendly laser system for your choice.
RoHS Compliance
All GCC products are RoHS-compliant (the European Parliament Directive 2002/ 95/ EC, Restriction of Hazardous Substances) and lead-free (pb free). GCC will continue to concern and provide environmentally friendly products to protect the earth for our further generation.
AC Servo Motor and Unique Motion
High toque and high speed AC servo motor assures long motor lifetime and high precision. A light weight and high strength structure together with AC servo motor and steel cord belt to provide first class stability and accuracy.
Excellent Speedy Scribing Quality
T-500 embrace extraordinary control system and rigid motion system allow user to create top-notch vector scribing quality with high speed.
AAS Contour Cutting Device (patented)(Optional)
Developed by LaserPro, AAS is an exceptionally user-friendly operation which offers accurate and faultless contour cutting by automatically tracking the position of graphics.
SmartPOINT Positioning Device (Patented)
Material positioning made extremely easy by use of 4 red beam diodes. Simply aim each red beam diodes at distinct points on the material and the red beam becomes a very useful positioning tool to replicate previous jobs precisely.
Outstanding Cutting Capability
T500 delivers high cutting quality with LaserPro's unique laser firing control technology. Up to 200W output power options, GCC LaserPro T500 can cut through 1" (25 mm) acrylic in a single pass with a smooth finish and unmatched clear cutting edge.
Superior Engraving Quality
T500 persists with GCC LaserPro's excellent engraving capability. Having cutting and engraving capability in one product, no more time wasted on switching materials from cutting and engraving machine. Compare to conventional cutting product. It is difficult to have a good and consistent raster performance with large working area, but T500 can.
Knife-shaped Cutting Table
Unique cutting table with tipped bars that can be easily adjusted without tools to create different levels of working depths. The cutting table of T500 reduces laser reflections and delivers clear cutting edge.
LED Light Illumination System
A LED light module that illuminates the working space and makes every engraving detail easy to see.
Grid Cutting Table
The grid cutting table is an ideal pal for laser cutting. It lifts the work piece off the work table from hitting by laser reflection while supports it with reinforced grid design. The dust and vapor created during laser cutting are then taken away effectively through the grid by down vacuum exhaust (suggested using SmartBOX™ together). Rather than handling rigid materials, grid cutting table also helps to fix flexible materials with the aid of down vacuum SmartBOX™ to keep constant focus distance and consistent cutting result. A clean and better cutting quality is achieved from this technique.
Pass-through Front & Rear Doors (Optional)
Convenient front and rear door open design enables loading of extremely long working pieces with ease and extends business flexibility.
Built-In Networking Connection
Network connection enables multiple laser engravers to be operated by one PC and multiple PCs to share a single unit of laser engraver. The Ethernet port has made data transmission easier and faster for GCC LaserPro users using network connection. Free your designers with great flexibility and maximum machine versatility...MORE
Job Preview Function
The GCC LaserPro laser engraver all series printer driver features a job preview function that previews graphics before the official laser printing process. One of the highlights of this feature is that it provides an estimated working time*.
The estimated working time is an easy tool for operators to know in advance as how much time will be needed to finish the job for better job management; it is also convenient for a shop to provide a quotation for its laser services.
SmartPRINT™ (Optional)
The GCC LaserPro SmartPRINT™ software features powerful functions, an intuitive interface and embedded GCC LaserPro laser parameter setting for both MAC and Windows users....MORE
SmartPRINT™ Flyer Download
Bridge Cutting

Bridge Cutting function diversifies the laser cutting into packaging prototyping and fulfill versatile requirements. Define the cutting gap to create the dashed line effect from user friendly print driver interface.
Bridge Cutting online Video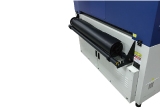 Roll Holder System
The optional Roll Holder System for users to manually load roll media like flex, films, labels, technical fiber, felt and more materials for laser cutting and engraving jobs.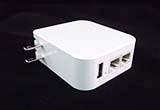 Wi-Fi Router
Wi-Fi router allows you to transmit data through a wireless network. It can work with GCC laser engravers and RX II/ Jaguar V cutting plotters through the Ethernet port (not applicable for Japanese users.) Whether you are sending files to multiple GCC machines using one PC or sharing one unit of GCC machines with multiple PCs, this wireless technology can be an excellent helper.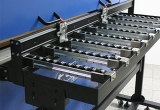 Extension Table
Extension Roller Tables help loading and unloading large piece work piece with ease, furthermore, it extends the maximum parts size to work with T500. T500 standard work area is 1300x905mm (51"x35"), and it will extend by 1300x600mm (51"x23.6") respectively in front and rear side of machine when adding extension tables. Therefore, the maximum work piece you can load will be 1300x1500mm (51"x59") in total.
Design with mechanical hard stop to ensure the origin position and clamping fixture to hold work piece firmly during laser processing. The Extension Table add-on is the smart way to extend your T500 laser system to fit larger piece materials like 1.5x1m acrylic sheet.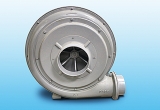 Air Extraction System - T500, X500III
To accomplish strong vacuum ventilation requirement for industrial application, GCC LaserPro X500III and T500 are recommended to supply a more powerful air extraction unit with 8" opening to reach the optimum cutting quality. The air extraction system powered by a maintenance-free turbine takes out the fume and dust generated during laser processing efficiently and effectively, leaves a quality cutting edge and clean operation environment.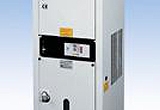 Water Chiller
The water chiller that will be connected to the machine consists of a cooling system, and two tubes that allow inflow and outflow of water. When you turn the power on, the cooling system is activated and delivers cool water to the laser module to absorb heat produced there, and then brings it back to the cooling system to cool down.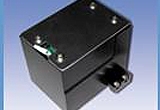 AAS Contour Cutting Device (Patented)
Developed by GCC LaserPro, AAS is an exceptionally user-friendly operation which offers accurate and faultless contour cutting by automatically tracking the position of graphics.
Note: Working area and engraving speed will be reduced when AAS module is installed.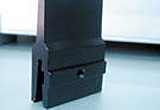 Supporting Pin Kit
This design can firmly hold up the working object preventing it from falling off; moreover, it can effectively reduce the possibility of the reflected laser hitting the working object.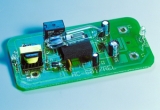 SmartGUARD™ Fire Alarm (Patented)
Laser cutting and engraving operation using the SmartGUARD Fire Alarm assures optimum safety. When there is a malfunction, the alarm system will be active and shut-down the operation system immediately.
T500
 
Laser Wattage
60 W
80 W
100W
150 W
200 W
Laser Source
Sealed CO2 Laser
Cooling
Air-cooled
Water-cooled
Work Area
51 x 35 in. (1300 x 905 mm)
Max. Part Size (W x L x H)
w/o cutting table
53 x 36 x 5 in. (1346 x 916 x 127 mm) with 2"/4" lens

53 x 36 x 3 in. (1346 x 916 x 76.2 mm) with 6" lens

All doors open
53 x ∞ x 1 in. (1346 x ∞ x 25 mm) with 2"/4" lens
With cutting table
52 x 35 x 4.4 in. (1325 x 889 x 114 mm) with 2"/4" lens
52 x 35 x 1.5 in. (1325 x 889 x 38 mm) with 6" lens
Dimensions(W x L x H)
71.6 x 49.2 x 52.3 in. (1820 x 1250 x 1330 mm)
Weight
420 Kg / 924 lb
440 Kg / 968 lb
Drive
AC servo Control
Maximum Speed*
40IPS
Throughput
(SIPH-Square Inch Per Hour)
133.95 in² /hr (864.2 cm²/hr)
Speed Control
Adjustable from 0.1-100% (Up to 16 color-linked speed settings per job)
Power Control
Adjustable from 0-100% (Up to 16 color-linked power settings per job)
Engraving capability
256-level gray scale image processing capability
Distance Accuracy
0.254mm or 0.1% of move, whichever is greater
Z-Axis Movement
Manual
Resolution (DPI)
Available125, 250, 300, 380, 500, 600,760,1000, 1500
Computer Interface
10 Base-T Ethernet, Full speed 2.0 USB
Focus Lens
Standard 4" focal lens in enclosed lens carriage (Optional 2"/6" lens )
Standard 6" focal lens in enclosed lens carriage (Optional 2"/4" lens )
Display PanelDisplay Panel
4-line LCD panel showing current file name, total working time, laser power, engraving speed, file(s) loaded into memory buffer, setup and diagnostic menus.
Safety
Class I Laser Product Compliant with EN60825
Class II Laser Product Compliant with CDRH
2006/42/EC Machinery Directive Compliance
Class 4 Laser Product Compliant with CDRH with the optional pass-through door module
Cutting Table
Knife-shaped cutting barswith alumminum grid cutting table
Facility Requirements
 
Operation Voltage
200-240VAC. 50/60Hz auto switching, Max.15A

200-240VAC. 50/60Hz auto switching, Max. 25A

200-240VAC. 50/60Hz auto switching, Max. 30A
Air Exhaust System
External exhaust system with minimum flow rate 2160m3/h
required to connect to 8-inch and 1-inch opening on machine 
*Speed does not equal to throughput. See dealer or visit www.gccworld.com for more details.
Specifications are subject to change without prior notice.
*The flow rate is determined by a default fume extraction system; the flow rate may vary due to a di fferent fume extraction system.​