GCC, a global forefront equipment-manufacturing provider in the visual communication industry, is pleased to introduce the driver for the latest i-Craft™ scrapbook cutting machine.
This convenient and useful driver enables users to output designs through familiar application programs such as Adobe Illustrator and CorelDRAW from i-Craft™ directly; users no longer need to convert the files first and then open them in another application program. Moreover, the driver's intuitive interface allows users to operate it effortlessly. Users can perform cut tests or set cutting parameters in the driver to get better cutting quality and avoid material waste. i-Craft™ is the best tool to "save your time; save your money".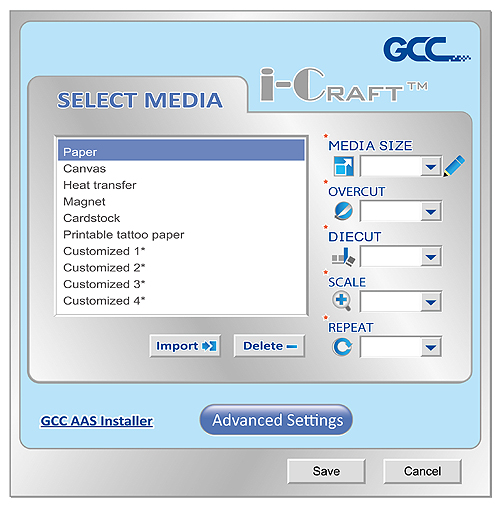 Availability
The driver for i-Craft™ is a standard item. Just click on "Install Driver" in the i-Craft™ installation DVD, and you can install the i-Craft™ driver easily.
About i-Craft™
i-Craft™ is the best scrapbook cutting machine for hobby users, schools, offices and families, which turns creative concepts into concrete designs. With the maximum cutting width of 12 inches (305mm) and up to 12 ips (300mm/s) cutting speed, i-Craft™ can easily make every user a scrapbook professional.
If you need more product information, please contact local GCC sale representatives in your area or visit www.GCCworld.com.
About GCC
GCC, a global leader in professional large format UV curable inkjet printer, laser engraving/cutting/marking systems, vinyl cutting equipment, provides businesses, governments, and consumers with innovative and reliable solutions. Headquartered in Taipei, Taiwan, GCC has branch offices in Walnut, CA and Capelle a/d IJssel, Netherlands. With over 100 current and pending worldwide product patents and trademarks, GCC has earned a worldwide reputation for innovation, quality and reliability in the awards & recognition, sign, personalization and manufacturing industries.