GCC, a global forefront equipment-manufacturing provider in the visual-tech industry, is pleased to introduce the feeding and delivering system for JV-240UV that fulfill the need for automated process in digital finishing applications.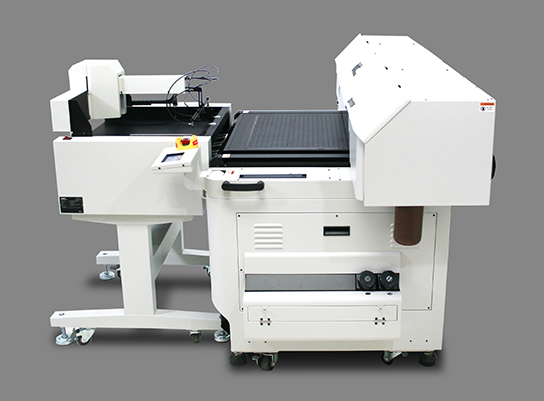 The labor costs dilute the profits when post press process relies on manpower to load the media sheet one by one. To maximize the profits is one of the most important subjects to all businesses; hence GCC aims to provide the best solution to handle the sheets feeding and collecting process.
The feeder for JV-240UV is a feeding and delivering system that can automatically load the media sheet to work area and collect it after the varnishing is completed. No need to assign an operator to take care of sheet loading tasks, just put a stack of sheet to the feeder, and the feeder will do the rest.
| | | |
| --- | --- | --- |
| Media sheet loading | | Automated media sheet feeding |
| | | |
| | | |
| | | |
| Media sheet collecting | | Mark detecting and spot varnishing |

The feeding and delivering system for JV-240UV accommodates media standard from A5 to B3 meaning that the utility covers most commonly used paper size. The auto feeder allows up to 250 Sheets or 50mm height providing labor free operation. The adjustable suction cups can be moved to proper position according to the loaded paper size. The media separation mechanism guarantees single sheet feeding at a time. Along with JV-240UV's CCD module, the auto feeder provides the hand-free workflow in post print process from loading the media sheet, spot varnishing on designated area and collecting finished job, offering an unattended and uninterrupted workflow.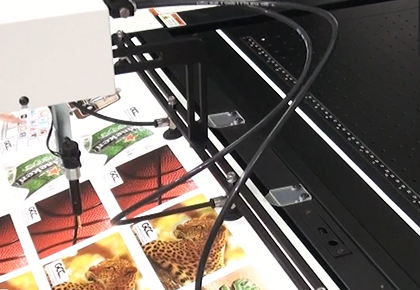 Features
Automatic feed and deliver system for post-print process
Suction cup for auto mated sheets feeding process
Media separation mechanism ensure single sheet feeding at a time
Support media standard up to B3 size
Media stacking up to 50mm
Accurate spot varnishing on designated area
For more product information, please contact local GCC sale representatives in your area or visit www.gccworld.com
About GCC
GCC, a global leader in professional large format UV curable inkjet printer, laser engraving/cutting/marking systems, vinyl cutting equipment, provides businesses, governments, and consumers with innovative and reliable solutions. Headquartered in Taipei, Taiwan, GCC has branch offices in Walnut, CA and Capelle a/d IJssel, Netherlands. With over 100 current and pending worldwide product patents and trademarks, GCC has earned a worldwide reputation for innovation, quality and reliability in the awards & recognition, sign, personalization and manufacturing industries.