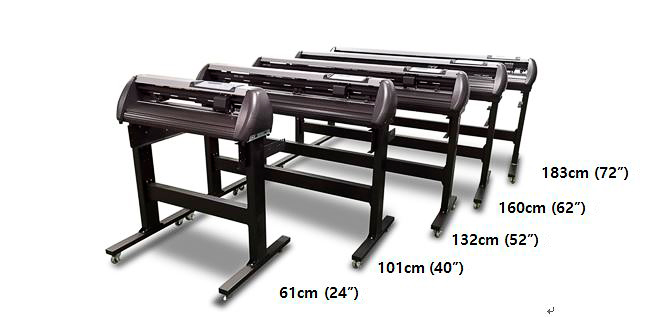 GCC, a global forefront equipment-manufacturing provider in the visual-tech industry, is pleased to introduce a new offering of Jaguar V family, Jaguar V 160/LX, which complete the product range, 61 cm (24"), 101 cm (40"), 132 cm (52"), 160 cm (62") and 183 cm (72"), and fulfill demands of different applications.
Jaguar V 160/LX inherits the functions of Jaguar V family that includes AAS II Contour Cutting System (LX model) for segmental positioning, auto rotation and auto tuning to provide precise contour cutting. It offers excellent performance and reliability in cutting various media such as PVC film, heat transfer film, reflective film, sandblast film and many more. Especially, Jaguar V 160/LX model can perfectly fit some specific dimension of wider films in the automobile industry such as window tinting film and protection film.
You don't need to limit your business and room space anymore by the width of machine. Jaguar V 160/LX is definitely your best choice.
For PPF(paint protection film) application, we highly recommend you our professional Jaguar V-160-P, a Jaguar V-160 with Media Take-up System, which makes it easier to handle paint protection film (PPF) and offer you a more efficient and low-cost operating process than manual cutting.
Feature:
✓ Enhanced AAS II Contour Cutting System
✓Section Cutting
✓ Segmental Positioning
✓ Auto Rotation
✓ Triple Port Connectivity
✓ Efficient Throughput up to 1530mm/s cutting speed
✓ Guaranteed 10m Tracking Ability
✓ Innovative Tangential Mode
✓ Selective Pinch Roller Positioning
For more product information, please contact local GCC sale representatives in your area or visit GCC Jaguar V