Dear GCC esteemed customers, we appreciate your continuing support. Hereby we wish you a fruitful and prosperous 2020~! We would like to take this chance to inform you good news that GCC LaserPro SmartPRINT – free upgrade version 2.0 is available to download from GCC distributor club.
Following we list the new features:
Version 2.0 is available as a 32 and 64 bit version for Windows and a 64 bit version for Mac
Is compatible with Window 7, 8, 10 and above or macOS 10.10 -10.15
Have multiple projects open
New effects added, including Bridge Warp, Drop Shadow, QR Code
Symmetrical Mirror Nesting add guidelines import additional file formats, including PES,PEC,HUS,JEF,SEW,VIP
More additional text justification and sizing options convert stroke to path
SmartPRINT - Version 2.0 is free upgrade, so you're welcome to download the newest version from GCC distributor club. (you can use the same serial number as version 1 to free upgrade to version 2)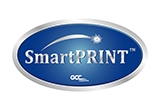 Any further request or service demand, please contact local GCC sales representatives in your area or visit www.GCCworld.com.
We will be at your service with no time.