GCC, a global forefront equipment-manufacturing provider in the visual communication industry, is pleased to announce Digital Factory, a dedicated RIP solution for printer by CADlink, is available now.
Digital Factory RIP software by CADlink provides consistent color quality and seamless file transfer regardless of the design software and fully flexible in-RIP production tools that streamline the print process for your printing production.
The function Visual Production Manager (VPM) solves complex workflow scenarios and unifies them into a single, central production hub.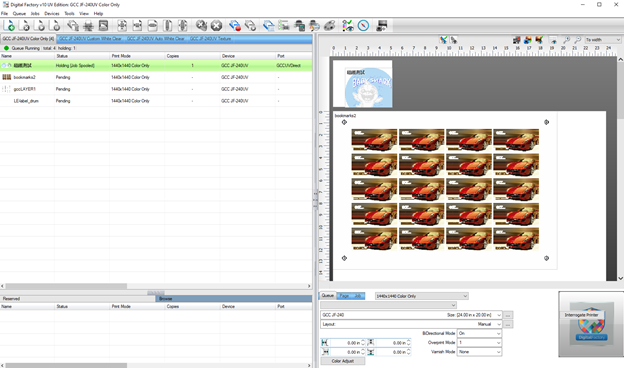 Moreover, users can simultaneously assign multiple queue presets under queue manager for each print job to easily manage jobs on different media types or to define the print process for different print effects.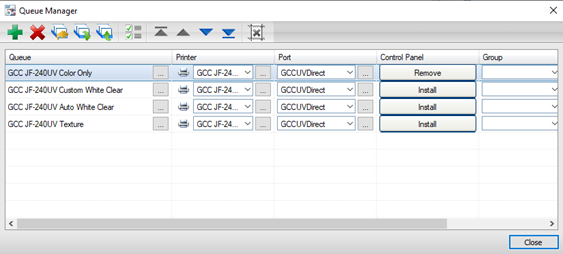 UV digital printing has its complexities in job preparation and production. Digital Factory UV Edition RIP software incorporate with the advanced features that address the requirement of print production. The queue manager for multiple queue preset function allows users to define the setting for later use or repeatedly printing. Digital Factory UV Edition RIP software simplify the workflow of print process and greatly increase work efficiency.
Digital Factory Feature Highlights
Send jobs directly to queues from design applications (PhotoShop, Corel and Illustrator)
Rip once, print many
Multiple queues supported simultaneously.
Tiling of large jobs (automatic or manual controls)
Nesting with MediaSaver (automatic or manual controls)
Multi-copy with spacing controls (In-Queue feature!)
Cropping controls of image and job (In-Queue feature!)
Rotation controls of image and job (In-Queue feature!)
Mirror, invert image and job (In-Queue feature!)
Scale image and job to any size (In-Queue feature!)
Soft proofing
Single window visual interface, one central easy to manage hub for all jobs
Easy to use queue set-up wizard. Set up production queues quickly and easily
Auto-scheduling or manual scheduling of jobs
On-the-fly job prioritization using simple drag and drop
Job archiving, history, print status and job log
Job notes
Job costing
Hot folder support
Barcoding support. Job description and production details via barcode identification. Machine-specific or generic.
Recommended System Requirements
Operating System: Windows 7, 8.1 and 10 supported (32 & 64 bit)
Processor: Intel i5-i7 2.6 GHz CPU
Disc space: 500 GB SSD (recommended) or HDD
Ram: 8 GB or more
Resolution 1280 x 800 (minimum), recommended: Windows 10 64-bit 1600 x 900
For more product information, please contact local GCC sale representatives in your area or visit www.gccworld.com.