GCC, a global forefront equipment-manufacturing provider in the visual communication industry, is excited to introduce the iOS app "Sure Cuts A Lot 3" for the latest i-Craft™ scrapbook cutting machine.
You used to manage your ideas with your desktop computer or laptop; now it is possible to organize your creativity anywhere on your iPad with an app and an Apple AirPort Express™*. This is the tablet version of Sure Cuts A Lot 3 designer for Apple iPad. From now on, users can download the "Sure Cuts A Lot 3" app on Apple Store. Users can use it on iPad to manage cutting tasks with great convenience; in addition, users can output the completed design straightaway by connecting to their i-Craft™ using Apple AirPort Express™. No wired connectivity is required.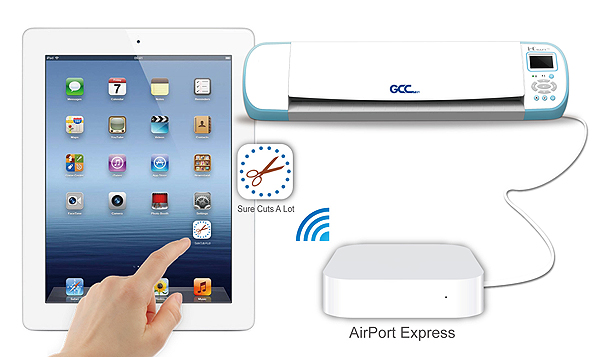 System Requirements
Apple iPad
iOS 6 or above
If you need more product information, please contact local GCC sale representatives in your area or visit www.GCCworld.com.
* AirPort Express™ is available on Apple Store.
About GCC
GCC, a global leader in professional large format UV curable inkjet printer, laser engraving/cutting/marking systems, vinyl cutting equipment, provides businesses, governments, and consumers with innovative and reliable solutions. Headquartered in Taipei, Taiwan, GCC has branch offices in Walnut, CA and Capelle a/d IJssel, Netherlands. With over 100 current and pending worldwide product patents and trademarks, GCC has earned a worldwide reputation for innovation, quality and reliability in the awards & recognition, sign, personalization and manufacturing industries.