GCC, a global forefront equipment-manufacturing provider in the visual communication industry, is excited to release Sure Cut A Lot 4 for its i-Craft™ scrapbook cutting machine.
"Sure Cuts A Lot" is a handy software program that helps you to cut your favorite shapes with i-Craft™ in a few simple steps. Whatever special fonts, custom artwork even graphic designs are used, i-Craft™ can perfectly complete the cutting task for you.
Both Apple Macintosh and Windows PC users can benefit from Sure Cuts A Lot 4 as it runs on both operating systems. The interface and the workflow of Sure Cuts A Lot 4 are more intuitive and more user-friendly than ever before; meanwhile many useful tools have been added for more possibilities, including freehand, brush, erase, knife, stencil bridge and more. Sure Cuts A Lot 4 also offers various effects, including line fill, 3D rotate, bulge, wave and wrapper.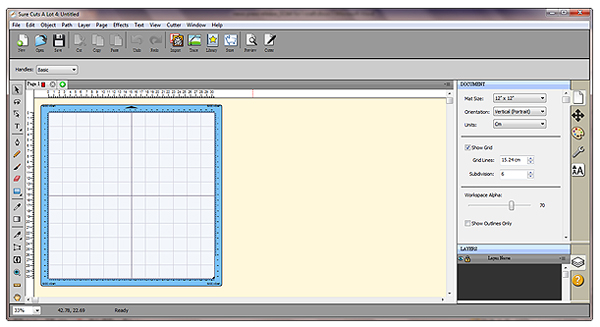 Line Fill is the most remarkable feature of Sure Cuts A Lot 4. If you own Engraving Tip Package—i-Craft™'s proprietary optional item, your scrapbook cutter will be transformed into an entry level engraver, making engraving designs on tags, name plates and crafts effortless.
System Requirements
Pentium processor-based PC or compatible computer (Windows)
Windows XP/Vista/7/8 (Windows)
Intel based Macintosh (Mac)
Macintosh OSX 10.6 - 10.10 (Mac)
512 MB of RAM or above
Minimum 50 MB of available hard disk space
USB Port 1.1 or 2.x
About i-Craft™
i-Craft™ is the best scrapbook cutting machine for hobby users, schools, offices and families, which turns creative concepts into concrete designs. With the maximum cutting width of 12 inches (305mm) and up to 12 ips (300mm/s) cutting speed, i-Craft™ can easily make every user a scrapbook professional.
If you need more product information, please contact local GCC sale representatives in your area or visit www.GCCworld.com.
About GCC
GCC, a global leader in professional large format UV curable inkjet printer, laser engraving/cutting/marking systems, vinyl cutting equipment, provides businesses, governments, and consumers with innovative and reliable solutions. Headquartered in Taipei, Taiwan, GCC has branch offices in Walnut, CA and Capelle a/d IJssel, Netherlands. With over 100 current and pending worldwide product patents and trademarks, GCC has earned a worldwide reputation for innovation, quality and reliability in the awards & recognition, sign, personalization and manufacturing industries.