Those assuming that laser engraving or marking is not possible for large format metals, are mistaken. In fact, Dutch industrial engraving company Gravure'85 has proven the contrary. Ernst Hendriks, owner of Gravure'85, wanted to find a machine capable of marking and engraving large (stainless) metal plates in one pass. His search eventually led him to the Dutch supplier SignSeen (Veenendaal, the Netherlands).
Stainless-steel/Metal laser engraving on the larger scale
Supplier SignSeen installed a machine usable for large format metal marking and engraving at engraving company Gravure'85. "Laser engraving large format materials is a quite particular craft within our industry", Jan W. Leendertz, managing director of SignSeen, U.S.. So far, the supplier has only sold this type of devices to the industry.
Customer base
"We have a large customer base," Hendriks commences. "We get orders from several signing and engraving companies, but also from companies within the food industry, hospitality industry, shipping industry, utility building, offshore industry and morticians. CO2 laser is known for requiring a special paste in order to work directly on metal, but in the long term the end result becomes brown, pale and rusty resulted from exposure to the elements. Moreover, marks are placed on the metal surface instead of being engraved in it. This can create problems in, for example, the food industry, where HACCP standards must be guaranteed. Engraved plates have to be properly cleaned using high water pressure equipments and meanwhile the marks need to resist color change or fading. The same goes for the engravings on memorial plaques and ornaments; texts and pictures have to maintain their novelty for years.
Deep black
Gravure'85 had ample motivations to look for the right machinery. The company frequently receives requests to add a name, date or line of text to an existing panel or board with the same color and density as the original text. Generally, letters have to look nice and solid black from every angle while high durability of the results must be ensured. Gravure'85 occasionally has requests for engraving on large format materials. "Regarding the latter, we have done lots of testing. When you re-enter a plate into a machine in order to make the second part of a marking, you inevitably get color differences between the first and second marks," Hendriks says. "Our goal was to engrave a large plate in just one single passage through the machine. However, in many machines the chassis is sealed, thereby making single passages impossible.
Fiber Laser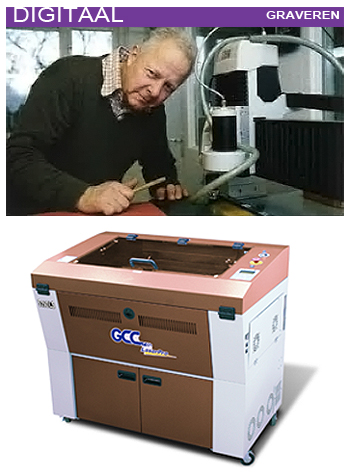 SignSeen provided the solution to this problem by placing a LaserPro GCC S290LS-40 laser marking machine at Gravure'85." Jan W. Leendertz first had to convince me of the quality this GCC laser delivers''. I have been the representative of Gravograph Benelux for more than eighteen years, so making a switch to a different brand was not an easy step for me. Jan W. Leendertz: "This GCC laser engraver is a fiber laser machine with working area of ​​790 × 460 mm, available in 20 and 40 watt versions". The technology itself is not new; we have been selling this type of machines for some time now through our industrial division for marking text, logos and barcodes on various metals and plastics. It is the first time, however, that we have installed this GCC laser engraver in an engraving and signing company that manufactures on the one hand smooth and permanently readable markings for the industry and on the other hand well-designed products for architects, designers, sign makers and graphic artists. The advantage of the GCC laser is it is patented through sliding possibility. The control driver of the laser is equipped with algorithms that help achieving deep consistent black coloration. Additionally, the laser beam performs with similar intensity on both short and long ranges from the material, even up to a distance of 60 cm."

www.gravure85.nl
www.signseen.nl
Leendertz continues: "Marking stainless steel with a fiber laser in this particular way is craft on its own. The machine at Gravure'85 has now been running for half a year and it has granted the engraving company a unique and highlighted position by engraving large-format metals. A fiber laser has a relatively lower energy use as compared to a YAG laser. Nowadays, fibers with various frequencies operate on a wide range of materials, including plastics. Fiber laser machines have gained a lot of interest within the automotive industry, where it seems to outrun the conventional technique of screen printing. Another advantage of fiber lasers is that one can vary between shades of black and even colors by adapting the frequency/waveform combination. The final result is a plate without any roughness on the surface and thereby it meets HACCP standards. Up to today, Gravure'85 has a well-stocked machine running daily, which not unimportantly, is combined with the proper software that has been adopted by the company as well.