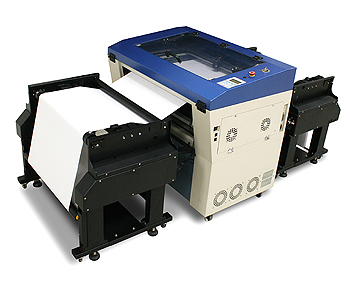 GCC, a global forefront equipment-manufacturing provider in the visual communication industry, is glad to introduce the Roll to Roll Autofeeder to deal with your difficulties and frustrations:

Waste of precious time on weeding following cutting jobs
Expensive laminated media being ravaged
Still cutting with pre-cut sheet materials
The Roll to Roll Autofeeder unit is a robust optional item that can be used in tandem with GCC LaserPro Spirit, LS, and GLS models to form an automated cutting & engraving system when working with roll materials.
GCC LaserPro has lately unveiled a new patent pending "Decal Cutting" function in its Windows based driver for Spirit series models to avoid redundant weeding after cutting decal graphics from roll flex and flock materials for apparel transfer. The GCC LaserPro Spirit series laser engraving system utilizes the non-contact CO2 laser technology to cut media; one of the best benefits of which is the cut-off job remains intact and unwinds smoothly via the Roll to Roll autofeeder.
A down vacuum SmartBOX™ design is recommended to be part of the solution with the Roll to Roll autofeeder to tightly hold the flexible roll media to facilitate laser cutting & engraving jobs.
GCC LaserPro Roll to Roll Autofeeder along with the "Decal Cutting" software function is the essential solution for mass production requirements, saving you tremendous manpower and increasing profits.
Seeing is believing, visit GCC Youtube channel for job in action!
http://youtu.be/YgGTMHqtWqE