GCC, a global forefront equipment-manufacturing provider in the visual communication industry, is proud to launch the RX II series cutting plotters.
Knowing your need for advanced functions to increase accuracy, GCC has launched RX II, the supreme cutting plotter, which is available in four sizes: 61 cm, 101 cm, 132 cm, and 183 cm.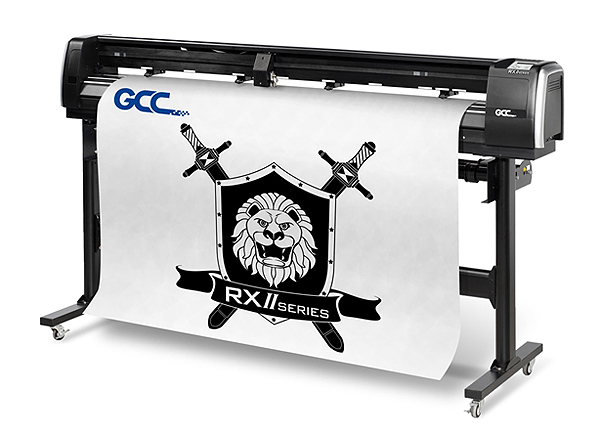 RX II series cutting plotters are equipped with the all-new AAS function, Ethernet connection and backlight LCM which can facilitate the completion of different cutting jobs. With advanced functions, high accuracy and solid reliability, RX II series cutting plotters deliver more than your expectation.
Highlights:
Enhanced AAS II
RX II series features the enhanced Automatic-Aligning System (AAS II) to guarantee precise contour cutting by automatically detecting registration marks on digitally produced images.
Auto Rotation
RX II series detects the unique registration marks to distinguish material feeding directions and rotate objects automatically.

Section Cutting
To improve long plot cutting precision, RX II series divides long plot data into sectional output jobs to achieve high cutting accuracy. Users can choose from two ways to divide the plot: through the use of registration marks or manual intervals setting.

Ethernet Connection
Network connection enables multiple RX II units to be operated by one PC and multiple PCs to share one unit.
Backlight LCM
The brand new backlight LCM is easy to use and durable. The user-friendly design allows users to operate the machine effortlessly.
For more product information, please contact local GCC sale representatives in your area or visit www.GCCworld.com.
About GCC
GCC, a global leader in professional large format UV curable inkjet printer, laser engraving/cutting/marking systems, vinyl cutting equipment, provides businesses, governments, and consumers with innovative and reliable solutions. Headquartered in Taipei, Taiwan, GCC has branch offices in Walnut, CA and Capelle a/d IJssel, Netherlands. With over 100 current and pending worldwide product patents and trademarks, GCC has earned a worldwide reputation for innovation, quality and reliability in the awards & recognition, sign, personalization and manufacturing industries.