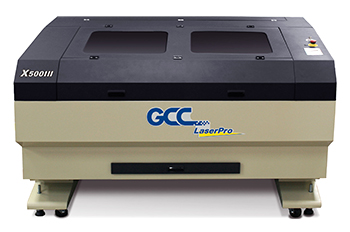 GCC, a global forefront equipment-manufacturing provider in the visual communication industry, is pleased to announce that GCC LaserPro X500III is now available.

The GCC LaserPro X series is a smart choice for laser cutting and engraving, providing high power wattage for quality cutting and high throughput. X500III enhances its vector quality with an advanced mechanical system, improved software algorithm control and an enhanced optical beam path design to deliver higher added value.
The following is a list of unique merits of GCC LaserPro's all new X500III:
High ROI machine that produces quality cutting with an appealing price tag.
Superior engraving capability compared to similar products in the industry.
Spacious working area: 51.1 x 36.1 in. (1300 x 916 mm).
GCC LaserPro's intuitive and feature-rich Windows driver allows direct output from user-familiar graphic design software including Corel Draw, Illustrator, AutoCad, etc.
Unique cutting table with tipped bars that enables easy tool-free adjustment to create different levels of working depths. The cutting table of X500III reduces laser reflections and delivers clear cutting edges.
Optional external Interface Control Board allows users to set up GCC laser machines for communication with external peripherals to form an automation production workflow
To discover more, please contact your local sales representative or visit at https://www.gccworld.com/.