GCC, a global forefront equipment-manufacturing provider in the visual-tech industry, is excited to introduce its GCC LaserPro StellarMark IFII fiber laser marking system.
Equipped with the world- leading SPI fiber laser source and CTI scanning head, GCC IFII fiber laser marker transmits and controls the laser beam that hits the working surface precisely and reliably with high working speed, producing intricate marking results on commonly used metal and plastic materials like stainless steel, aluminum, brass, copper, ABS, and more. Applications cover metalware, auto parts, electronic parts, jewelry and tools marking. High speed fiber laser marking systems have become indispensable for the industrial market.
New features of StellarMark IFII fiber laser marker:
3 types of 20W and 40W laser tubes for different applications
New modular scan head for easy maintenance
Two-Point Focus Finder to easily and quickly define the correct focus distance
Compact size and stylish color design
Key benefits of StellarMark IFII fiber laser marker:
Environmentally friendly and maintenance free fiber laser marking system
World class built-in key components
Industry's reliable solution
High speed and variant laser marking
Different marking contrast created through waveform outputs
Seamless integration meeting production requirements made possible by the versatile G-Mark software
Ready I/O for integration with production peripherals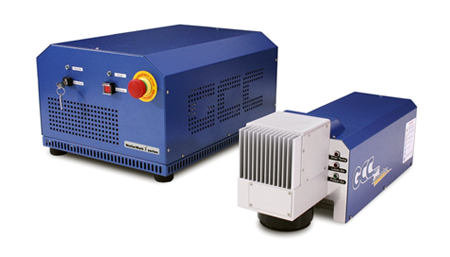 For more product information and availability about GCC LaserPro IFII series, please contact your local sales representative or visit www.GCCworld.com.