GCC, a global forefront equipment-manufacturing provider in the visual communication industry, is thrilled to share a warm message from our partner Gencotech.
Congratulations to Nathan Potgieter on winning the GCC i- Craft on a lucky draw at the Hobby – X Exhibition in Pretoria. He has been at the stand the whole day waiting for the lucky draw as he needs the GCC i- Craft for school projects and using it to start his own small business.
Gencotech wishes him all the luck and are proud to know we are part of his future.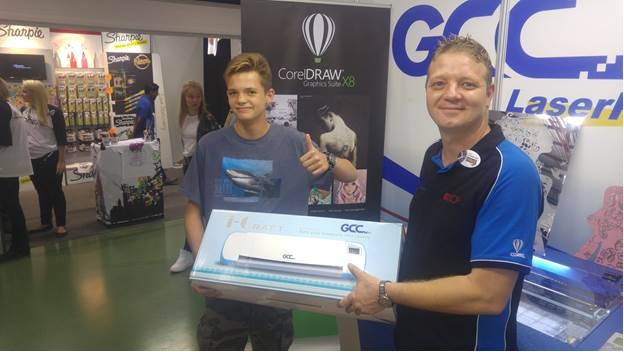 The Hobby – X was a very successful show for Gencotech this year with over 300 leads to follow up. With one or 2 competitors' on the show the end users complimented Gencotech on the quality of our laser systems. The innovative thinking of GCC on the new look on the light in the Spirit's front door and the new lighting inside the system and also the glass door made the Spirit stand out on the show.
Competitors also did visit our stand and compliment us on the LaserPro Spirit and the quality of the system.
Thank you GCC for your innovating thinking and your passion for Laser systems. We can really be proud to be a distributor for GCC LaserPro in South Africa.
Thank you all from the Gencotech Team.