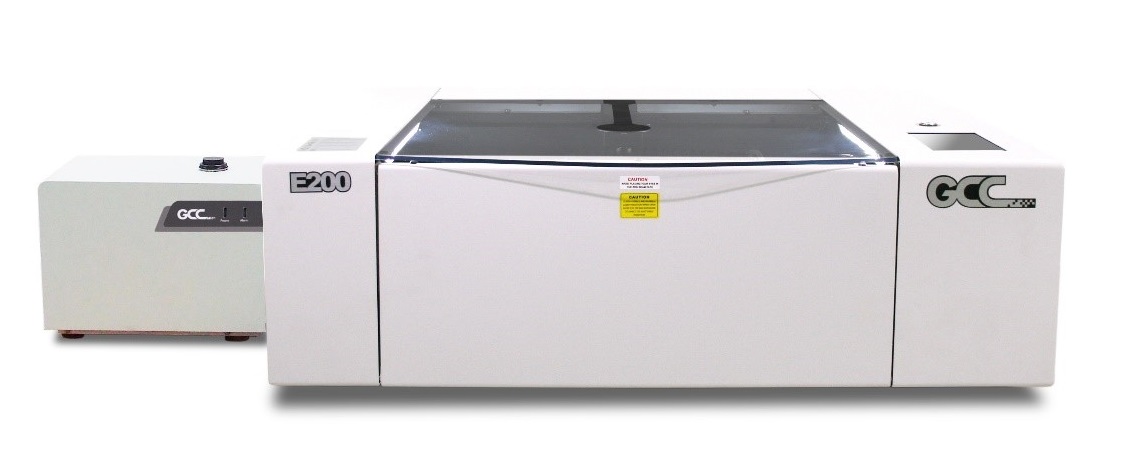 GCC, a global forefront equipment-manufacturing provider in the visual-tech industry, is thrilled to launch the GCC LaerPro E200 desktop laser engraver, on the one hand delivers very simple operation, and on the other hand artworks can be professionally processed during laser engraving and cutting.
E200 is the largest table size of its kind, and the world's first desktop laser engraver with a closed-loop servo motor that attains the highest accuracy and speed. Simply click one button and the E200 will do the rest for you, which is especially suited for DIY (print) shops, hobby (home) users, personalization, education market for STEM, FabLab & Makerspace, and gift/promotion market.
Equipped with a standard water chiller, E200 delivers high efficiency and productivity. Each machine comes with free materials with a barcode sticker on it, and the software will automatically set parameters by reading the barcode, which turns creative concepts into concrete designs with ease. E200 makes your life simple, smart, and full of creativities.
E200 Outstanding Points
High throughput for unlimited imagination
20 ips processing speed with DC servo motor to boost productivity while maintaining precision.
Unmatchable output quality
E200 takes your laser engraving and cutting to a level beyond other desktop laser engravers.
E200's onboard camera allows you to preview your design to make positioning simple and easy.
Multifunction user interface for both beginners and advance users.
Free bundle with GCC materials to start your business with ease.
Every E200 comes with free GCC materials with barcode stickers. The camera can read the QR code and automatically set up parameters according to different materials.
With the colorful intuitive 7" touchscreen interface, E200 can bring your inspiration to life.
Standard water chiller allows for high production
E200 comes with a standard water chiller to ensure machine efficiency.
Stamp mode with shoulder level function
E200 stamp mode with shoulder level function enables you to produce a professional stamp easily.
E200 intro video link:

E200 SPEC
Laser
CO2 40W
Working Area
510 x 330mm
Max. Part Size (W x L x H)
525 x 340 x 20mm (with grid cutting table)
493 x 341 x 95mm (without grid cutting table)
Max. Working Speed
20 IPS
CCD Camera
Standard
Working Table
Standard grid cutting table
Driver
DC servo motor
Focal Lens
Standard 1.5"
Max. Cutting Thickness
10mm
Control Panel
7" touch screen
Connection
Wi-Fi, USB
Dimensions (W x L x H)
915 x 780 x 300mm
Optional
Rotary attachment, odor reduction, air compressor
For more product information, please contact local GCC sale representatives in your area or visit www.GCCworld.com.